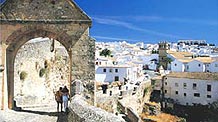 Spain is a beautiful Mediterranean country, which benefits from a sunny climate, beautiful beaches, and a rich culture and history. The Spanish are very open-minded and very welcoming, especially in the big cities, like Barcelona and Madrid and teh major tourist areas such as the Costa Blanca and Costa del Sol.
Book cheap ferries to Spain at low prices with instant email confirmations with OnlineFerries.co.uk
Spain has been a very attractive destination for those from the UK and northern Europe for decades sincs the package holiday boom of the 1960s. Spain attracts millions of tourists each year with its glorious weather and vibrant culture presenting an attractive spirit and the soul of the country. Spanish culture is lively and full of life, evident in traditions such as flamenco music, bullfighting, Spanish cuisine, and the country's famous painters and the sculpters.
You can visit the magnificent museum of Guggenheim in Bilbao, or take a sunbathing on one of the myriad of beautiful beaches. You can also discover the art of bullfighting in Andalucia in southern Spain, and taste a large variety of typical dishes like paella, which originates from Valencia, and the many forms of tapas with many local specialities
Spain is also a massive football country, where you can attend matches in a magnificent stadia such as Santiago Bernabéu Stadium in Madrid, and the Camp Nou in Barcelona. Spain is also a very festive country with a big young population, and as a result its large modern cities such as Barcelona, Madrid, and many more have a hugely active nightlife to enjoy.
Ferries to Spain
P&O Ferries offers crossings from Portsmouth to Bilbao

Brittany Ferries offers crossings from Portsmouth or Plymouth to Santander

Grimaldi Lines and Grandi Navi Veloci offer crossings from Civitavecchia, Livorno and Genoa to Spain

Acciona Trasmediterranea offers crossings from Tanger and Ceuta to Algeciras, and from Nador to Almeria

Grandi Navi Veloci offers crossings from Tangier to Barcelona

Nautas Al-Magreb offers crossings from Tangier to Algeciras

SNCM offers crossings from Alger to Alicante and Barcelona, from Oran to Alicante

Acciona Trasmediterranea offers crossings from Ghazaouet to Almeria, and from Oran to Alicante and Almeria

Balearia, Iscomar and Acciona Trasmediterranea offers frequent crossings between the Balearic islands and mainland Spain, and between all the Balearic islands of Mallorca (Majorca), Minorca (Menorca), Ibiza (Eivissa) and Formentera
Click on the link above to book your cheap ferry crossing to Spain