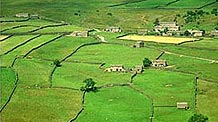 England is an attractive country, famous for its long history, beautiful landscape, rich culture and many varied attractions.
Book cheap ferries to England at low prices with instant email confirmations with OnlineFerries.co.uk
To many, England is the country of football, and to others, it is the most original country, or the country of tea, or the country of fashion. It depends on your interests, but in all the cases, England has a lot to offer its millions of annual visitors.
When you arrived to England, you can benefit of the beautiful landscape and the architecture of the cities, which is very original and historical. You can also visit the numerous attractions of England, such as Big Ben, Buckingham Palace, the London Eye, the universities of Oxford, York Minster or Chester Zoo.
There are a lot of things to see, and if you want to discover the joy of living in England, there is nothing more quintessential than spending a night in an English 'local' pub.
Book a ferry ticket to England
Ferries to England
P&O Ferries offer crossings to Portsmouth (from Bilbao), to Dover (from Calais) and to Hull (from Rotterdam)

Britany Ferries offers ferries to Portsmouth (from Cherbourg, Caen, St Malo and Santander), to Plymouth (from Roscoff and Santander), and to Poole (from Cherbourg)

P&O Irish Sea Ferries, Norfolkline Irish Sea, Irish Ferries and Stena Line offer crossings to England from Ireland

Redfunnel and Wightlink offer crossings to England from the Isle of Wight

The Isle of Man Steam Packet Company offers crossings to England from the Isle of Man

Condor Ferries offers crossing to England from the Channel Islands (Jersey and Guernsey)

Stena Line (Hook of Holland to Harwich) offer crossings to England from the Netherlands

Transeuropa offers crossing to England from Belgium (Ostend to Ramsgate)
Click on the link above to book your cheap ferry crossing to Belgium