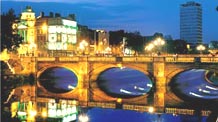 Ireland and its neighbour, Northern Ireland, are beautiful, scenic countries, wit exciting cities and rolling green landscapes that attract a lot of tourist every year. If you're interested by the nature, the festive life and the famous Irish 'craic', Ireland is the perfect destination for you.
Book cheap ferries to Ireland at low prices with instant email confirmations with OnlineFerries.co.uk.
Ireland is popular for its beautiful landscapes, with many long beaches and large green plains and hills. The atmosphere in Ireland is famously pleasant, because of the proximity with the nature and the cheerfulness of the inhabitants and their conviviality. The Irish are very attached to their traditions, and there are a lot of festivals celebrating these traditions. If you like Celtic music, beer and tradition, not to mention having a great time, then taking in Saint Patrick's Day in Ireland is something you can't miss.
Ireland is an ideal country for hiking and to stroll near lakes, in plains or on the coast to see the waves of the Irish Sea or Atlantic crashing on cliffs. Ireland is a very good place for relaxing vacations, but there are also modern cities like Dublin and Belfast, which offer an active nightlife for the inhabitants and the visitors.
Ireland has a little bit of everything, making it a perfect destination for a holiday; and you can experience this country by booking a ferry crossing to Ireland as soon as you want with onlineferries.co.uk.
Book a ferry ticket to Ireland
Ferries to Ireland and Northern Ireland
From England:
Norfolkline offers crossings from Liverpool to Belfast or Dublin

P&O Irish Sea Ferries offers crossings from Liverpool to Dublin

Stena Line offers crossings from Fleetwood to Larne

From Wales:
Stena Line offers from Holyhead to Dublin or Dun Laoghaire, and from Fishguard to Rosslare

Fastnet Line offers crossings from Swansea to Cork

Irish Ferries offers crossings from Pembroke to Rosslare, and from Holyhead to Dublin

From Scotland:
P&O Irish Sea offers crossings from Troon and Cairnryan to Larne

Stena Line offers crossings from Stranraer to Belfast

From France:
Irish Ferries and Celtic Link offer crossings from Cherbourg to Rosslare

Brittany Ferries offers crossings Roscoff to Cork, with one sailing per week

From the Isle of Man:
The Isle of Man Steam Packet Company offers crossings from Douglas to Dublin and Belfast

Click on the link above to book your cheap ferry crossing to Ireland or Northern Ireland