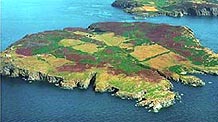 The Isle of Man is a small island in the Irish Sea, which attracts a lot of British visitors and tourists from the whole world every year. Even though the Isle of Man is a small island, it offers a lot of activities and events for visitors, and is especially famous for the TT motorcycle race that takes place every August.
Book cheap ferries to the Isle of Man at low prices with instant email confirmations with OnlineFerries.co.uk
The Isle of Man is an island of contrasts between the vestiges of the past and modern UK life. You can visit beautiful fortresses, discover the numerous traditions and legends of the island, and its Celtic influence, which is clearly present in its culture. The Isle of Man offers beautiful landscapes with green fields, large water wheels, a truly beautiful coast, and a rich and diverse wildlife.
This natural atmosphere contrasts with the modern lifestyle of the isle's inhabitants. You can go hiking, or do a lot of aquatic sports, such as kayaking or underwater diving. Naturally, the Isle of Man is popular with motorcycle enthusiasts year-round, and you can also practice many other motorsports such as quad-biking and karting. This island is very popular for its atmosphere, as well as its numerous attractions, and those who want an active holiday will have a superb time here.
Book a ferry ticket to the Isle of Man
Ferries to Isle of Man
The Isle of Man Steam Packet Company offers frequent crossings from Heysham, Liverpool, Belfast and Dublin to Douglas

During the summer, you can also travel between Douglas and Larne

Click on the link above to book your cheap ferry crossing to Isle of Man