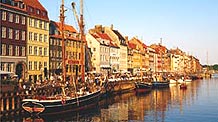 Denmark is a Scandinavian country belonging to the European Union, with plenty on offer for the visitors. Denmark is popular with tourists from all over the whole world, thanks to its rich culture, modern architecture, and environmental innovations.
Denmark benefits from a temperate climate, with mild summers and fresh winters. This country has beautiful landscape, and its inhabitants attach the utmost importance to the environment. The Danes are the leaders in the wind turbine business, and they have the most friendly environmental cities of the world. Its cities (Copenhagen) have very modern architecture, which has an environmental impact, such as ecodistricts. The Danes laws and the technology are used to protect the environment. The agriculture in Denmark is very modern and innovative.
There are a lot of things to do in Denmark, you can visit the popular Hans Christian Andersen museum in Odense, or visit the lot of art's places in Copenhagen, or the beautiful landscapes all over the country.
Book a ferry ticket to Denmark
Ferries to Denmark
Color Line, Bornholmstrafikken, Stena Line, Smyril Lines, Scandlines and DFDS Seaways offer crossings to Denmark, and domestic ferry routes within Denmark are run by Alstrafikken, Langelandstrafikken and Samsotrafikken

Color Line offers crossings to Hirtshals (from Oslo, Kristiansand and Larvik) and Frederikshaven (from Oslo)

Bornholmstrafikken offers ferries to Koge from Ronne, on the island of Bornholm

Stena Line offers crossings to Frederikshavn (from Gothenburg and Oslo) and to Varberg (from Grenaa)

Smyril Lines offers crossings to Hanstholm from Torshavn, Seysdisfjordur and Bergen

Scandlines offers crossings to Denmark; between Fynshav and Bojden

DFDS Seaways offers frequent crossings from Harwich to Esbjerg, and from Oslo to Copenhagen

Alstrafikken, Langelandstrafikken and Samsotrafikken offer crossings on domestic routes within Denmark
Click on the link above to book your cheap ferry crossing to Denmark