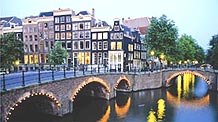 Holland (officially The Netherlands of which Holland is the largest region) is an amazing country, which retains its contrast between rural life and modern living. It is a beautiful destination, highly popular with tourists, with many exciting and active cities.
Book cheap ferries to Holland at low prices with instant email confirmations with OnlineFerries.co.uk.
Holland has a rich economy, which depends on agriculture, financial services and natural resources. The Dutch grant a lot of importance for the environment, so the cities are very clean and nice for both inhabitants and visitors. These cities reside in beautiful landscapes often in harmony with the surrounding area. Even though Holland is a rural country, it is also very modern, with cities like Rotterdam and Amsterdam and their fantastic architecture and plenty of famous museums. Holland is a very artistic country, with many famous artists whose works you can see as well as over 75 festivals a year to enjoy.
You can reap the benefits of the modern life in the cities, in a great atmosphere between art and nature. Holland is a very attractive place for art lovers as well as those seeking to indulge in the famous nightlife of Amsterdam.
Book a ferry ticket to Holland
Ferries to Holland
Stena Line offer frequent crossings from Harwich to Hook of Holland

DFDS Seaways offers crossings from Newcastle to Ijmuiden port (Amsterdam)

P&O Ferries offer daily crossings from Hull to Rotterdam Europoort
Click on the link above to book your cheap ferry crossing to Holland