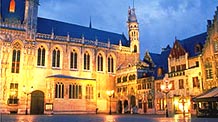 Belgium, the land of fine chocolates and beer is often perceived as just a gateway to Europe but Belgium has a lot to offer. Divided into 2 regions, the French Flanders and Wallonia, Belgium offers a diverse and varied mixture of languages and cultures.
The capital city of Brussels is not only the heart of the country but also the European Union with the European Union parliament located here. While in Belgium, along with relishing wonderful chocolates, moules-frites, Belgian waffles and beers, you can also visit some old traditional lace shops; visit the Grand Place, Manneken Pis, the iconic statue of Brussels and various other glorious Belgium architecture surrounding the Grand Place.
If interested, you can also travel further from Brussels to Antwerp and Ostend. Antwerp is a renowned centre for diamond carving and diamond trade and Ostend stands as the seaside resort of Belgium with numerous sandy beaches and various seaside shops and cafes to explore.
Book a ferry ticket to Belgium
Ferries to Belgium
P&O Ferries offer Hull to Zeebrugge crossings
Norfolkline Irish Sea offer Rosyth to Zeebrugge crossings
Transeuropa ferries offer crossings from Ramsgate to Ostend
Alternatively, you can travel with Eurostar from London St Pancras and Ashford to Brussels
Click on the link above to book your cheap ferry crossing to Belgium