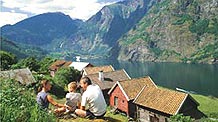 Norway is a popular tourist destination, thanks to the famous fjords, mountainous landscape, the numerous lakes and its magnificent aurora borealis, better known as the Northern Lights. The beauty of the landscape will make you feel as if you have discovered the end of the earth.
Book cheap ferries to Norway at low prices with instant email confirmations with OnlineFerries.co.uk.
Norway is an amazing country, with very diverse climates and landscapes between its regions. So if you visit northern Norway during the summer, you could be surprised to see the sun shining in the midnight, or the aurora borealis, which attracts many each year. You can also make wildlife safaris to observe beautiful and rare species.
On the coast of Norway you can travel in the mountainous environment to discover the numerous beautiful fjords and glacial valleys. Norway is a perfect country for hiking and extreme sports, if you are looking for big sensations, like skiing, and sport parachuting Norway is your place. The south of Norway is different, but no less charming, filled with beautiful villages and cities, with excellent ports, old farms, canals, and Norway's most modern chic urban hotspots.
Ferries to Norway
From Denmark:
DFDS Seaways offers crossings from Copenhagen to Oslo

Stena Line offers crossings from Frederikshaven to Oslo

Color Line offers crossings from Hirtshals to Kristiansand and Larvik
From Germany:
Color Line offers crossings from Kiel to Oslo
From Sweden:
Color Line offers crossings from Stromstad to Sandefjord
Click on the link above to book your cheap ferry crossing to Norway