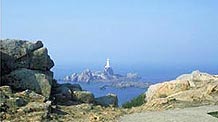 Jersey is a fantastic destination and a magnificent blend of two rich cultures: French and English. With its breathtaking coastline and beaches, and stunning, unspoilt scenery Jersey will leave you with an unforgettable memory.
Book cheap ferries to Jersey at low prices with instant email confirmations with OnlineFerries.co.uk.
Jersey is an ideal place to spend relaxing holidays in a beautiful environment, with plenty of spas, high quality hotels, and a lot of beautiful beaches. During your holidays you can also indulge in some shopping, with many beautiful shops to be found.
Jersey is the cross between French and English culture. There are many historical sites and museums where visitors can discover the varied history of the island. Jersey has always been an attractive island for people from all over Europe, and has been occupied alternately by the Romans, the Normans, the French and the English. This occupation and is location close to the French coast has helped give Jersey its rich and diverse culture.
Jersey is also perfect for walking and cycling holidays; the vegetation is abundant and protected, so it's really pleasant to storm in this beautiful environment. The main town of St Hellier is bustling, thriving place, sure to satisfy the demands of tourists looking for nightlife.
Ferries to Jersey
Condor Ferries offer frequent crossings from Poole, Weymouth and Portsmouth to Jersey

Condor Ferries also have crossings from St. Malo in France to Jersey

Condor Ferries also offer inter-island crossings between Jersey and Guernsey
Click on the link above to book your cheap ferry crossing to Jersey