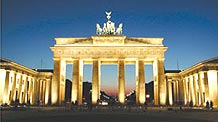 Germany is a famous and popular tourist destination, which welcomes thousands of visitors each year. The charm of this country lies in the friendly welcome of the inhabitants, the rich culture, its history and the beautiful landscapes, and, of course, Oktoberfest.
Book cheap ferries to Germany at low prices with instant email confirmations with OnlineFerries.co.uk
Germany has a fascinating culture, with plenty of famous artists from its history, like Wolfgang Amadeus Mozart, Beethoven, Kafka, and many great thinkers, such as Albert Einstein, Karl Marx, and Immanuel Kant. The country, since the fall of the Berlin Wall, is a place of freedom and an open-minded spirit. Germany is also known for its environmental consciousness and involvement in many green projects. This country has an important place in the European Union as a major economic power thanks to its very strong industry.
Germany is a very attractive country with modern cities, like Berlin, Dortmund and Munich, which offer a great deal of attractions for visitors. You can visit the Cologne Cathedral, the numerous museums of Berlin, you can stroll on the Alexander Platz, or experience the joy of German beer with the annual Oktoberfest.
Berlin is one of the most active and modern cities of the World, but if you prefer just relax and take in the landscapes, the temperate climate Germany's countryside is perfect for that.
Book a ferry ticket to Germany
Ferries to Germany
Scandlines offers crossings to Rostock from Gedser, in Denmark

Bornholmstrafikken offers crossings to Sassnitz from Ronne (a Danish island)

Tallink offers crossings to Rostock from Helsinki, in Finland

Stena Line, TT Lines and Scandlines offer crossings to Germany from Sweden

Scandlines offers crossings to Puttgarden from Rodby, on the Danish island of Lolland

DFDS LISCO offers frequent crossings from Kiel, Sassnitz and Lubeck to Klaipeda, Baltiysk and Riga

Color Line offer crossings to Kiel from Oslo, in Norway


Click on the link above to book your cheap ferry crossing to Germany