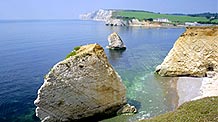 The Isle of Wight is an island just off the south coast of the UK, across the Solent. The Isle offers something for everyone in a beautiful environment, complete with stunning scenery, regular musical events, magnificent beaches and a rich and interesting history.
Book cheap ferries to the Isle of Wight at low prices with instant email confirmations with OnlineFerries.co.uk.
The Isle of Wight has long been a traditional holiday destination, with Queen Victoria a keen patron. With events such as Cowes Week, Sandow Lantern Parade and the annual Isle of Wight Festival and Bestival musical festivals, this island attaches also a lot of importance to cultural and sporting celebrations that thousands flock to each and every year.
If you prefer taking a more active interest in sport, there are plenty of cycle tracks, beautiful hiking paths, and, naturally, some of the best opportunities to try your hand at some watersports. The Isle of Wight is an original destination with landscapes, traditions, festivals and activities to suite all.
Book a ferry ticket to the Isle of Wight
Ferries to Isle of Wight
Wightlink offers frequent crossings from Portsmouth to Fishbourne or Ryde, and from Lymington to Yarmouth

Hovertravel offers hovercraft ferry crossings from Southsea (in Portsmouth) to Ryde. These crossings are very frequent, take only 10 minutes, and are available during all daylight hours

Click on the link above to book your cheap ferry crossing to Isle of Wight